This article provides an overview of the three steps necessary for successful SEO: basic on-page optimization, basic link building, and basic social media marketing.
Learn about the basics of keyword research, creating effective titles and meta descriptions, building your profile on external websites, and implementing effective social media strategies. Find out how you can use the right tools to measure your efforts and tie them back to your website. Start getting more website traffic and higher-quality leads with these three essential steps.
SEO, when done correctly, takes a ton of effort and it is a very time-consuming process, but for this, you may need professional help from a search engine optimization company. A well structured, planned out website is going to be much more successful in the long run and will result in more relevant traffic and better quality leads. To begin, we need to focus on three basic activities related to your presence including Basic On-page Optimization, Basic Link Building, and Basic Social Media Marketing.
Basic On-Page Optimization for SEO Success
Basic On-Page optimization is the lowest hanging fruit and is the first place we start when trying to optimize our website for search engines. We begin with brainstorming and researching keywords that your target audience is using to locate your products and services. If a client is trying to rank locally for keywords, we make sure to include keywords (such as Bloomington) in the copy and structure of the HTML. Title tags are then written to evoke the highest emotional response using keywords that are relevant to your audience. High-quality meta descriptions that include one to two sentences about your business with calls to action are crafted. Your information on your page should be structured into an outline like form including headings, paragraphs, bulleted lists, etc. Images all have titles, descriptions, and when it makes sense, captions. These images should have ALT descriptions not only for search engines but for accessibility. David Martin Design can provide you with assistance on the appropriate layout.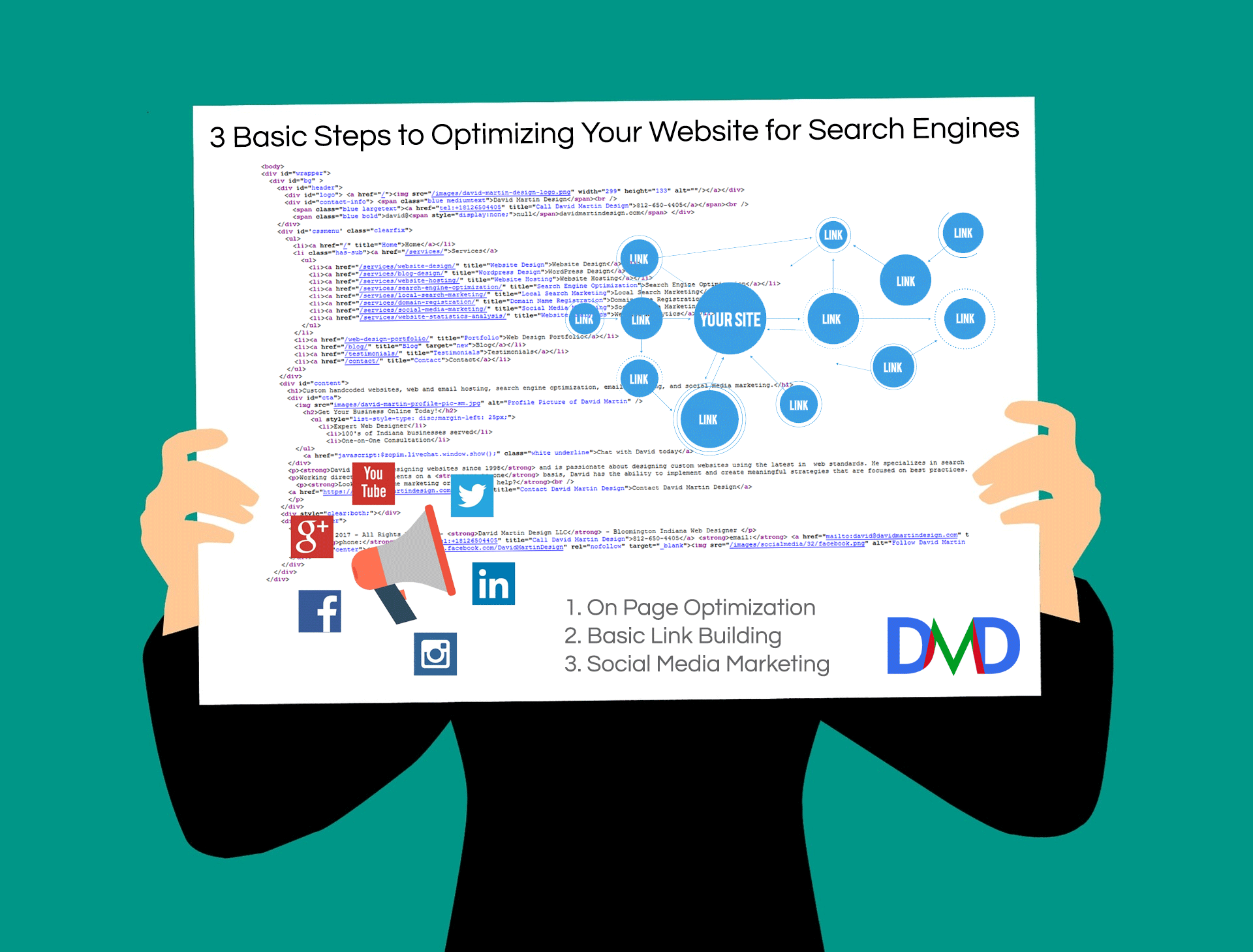 Basic Link Building for Increased Rankings
After the overall structure has been built and your information is well organized, it's time to build some links to your website. Basic Link Building is important as a link reference from another reputable source on the internet is worth a TON in the search engine ranking factors. It's important to create quality content and submit press releases that link back to your website for newsworthy items. Building your business profile on websites like Google+, Facebook, LinkedIn, Manta, Instagram, Google My Business (for better efficiency should be managed using tools only from this site), Snapchat, Yelp, Yahoo, Foursquare, Bing Local, and a plethora of other directory-based websites is vital to your search engine ranking. It's important to not just claim your listing, but include your business hours, images of your product and location, and other important signals that show you are active in your business marketing. Your customers will reward you with high-quality reviews if your customer service aligns and your performance exceeds their expectations. Make it easy for them to write reviews by promoting your business on social media and in as many online places as possible.
Social Media Marketing: Optimizing Your Channels
Social Media Marketing is a challenge as most people don't initially gravitate towards social networks to interact with businesses or to hear about your latest gadget or gizmo, usually, it takes help from companies to get people into using social media. It's important for link-building to optimize your business information on social media profiles. It's also important that a key person in your business is assigned to monitor these channels for customer communication. This responsibility most likely falls into the hands of most business owners and they install apps on their phones to keep in touch with their customers. It's important to claim your profiles, optimize them, and use helpful tools to help manage your social media. Using the right tools, you can effectively measure your efforts on social media and tie them back to your website.
As you can see, it can get pretty complicated to market your business in today's world. Start with these 3 basic steps:
On-Page Optimization of your website pages
Build High-Quality Links to your website and webpages
Basic social media marketing
and you will begin to see positive results in the search engines and reach highly qualified leads.