Search Engine Optimization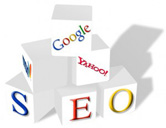 Search Engine Optimization is very important to how visible your content is in the major search engines. According to Wikipedia, "Search engine optimization (SEO) is the process of improving the visibility of a web site or a web page in search engines via the "natural" or un-paid ("organic" or "algorithmic") search results."
While it is true that each search engine has different algorithms and ways of ranking your content, it is important to develop content that uses the specific keywords that you are trying to rank highly for in many places on your website. A very good place to start when thinking about search engine optimization is to read Google's Search Engine Optimization Starter Guide. (PDF)
David Martin Design will research the most popular keywords for your market and develop a competitive analysis of your sales market. With careful research and analysis we will choose keywords and develop content that reflects your business and targets the right users. Relevant content and images that relate to the keyword searches are the most effective way to optimize your website. Using proper meta tags and search engine techniques that place your website higher in the search engine rankings will give you better targeted visitors.
After developing your website with structured keyword-rich content, it is vital to take more steps to increase your search engine rankings. Including an XML Sitemap, submitting your website to various search engine,website directories, social networks like Facebook and Twitter, creating a blog, creating a press release, writing articles, trading links, and participating in forums will all help to improve your website in the organic search results.