Local Bloomington musician Andy Cobine had been working with GoDaddy's marketing experts to build a new website for Wizard Pants Party Band since November 2022. After numerous parleys with GoDaddy and bestowing several hundred gold coins for marketing aid, he began to question if his endeavor would ever take flight.
Linking the Physical and Digital Realms – David Martin Design featured in the Ryder Magazine with a QR Code
Andy found David Martin Design's QR Code in the June 2023 edition of the Ryder Magazine. This was his maiden encounter with a QR Code and, after laying eyes on the advertisement numerous times, he found himself muttering, "I must summon him, I must summon him indeed."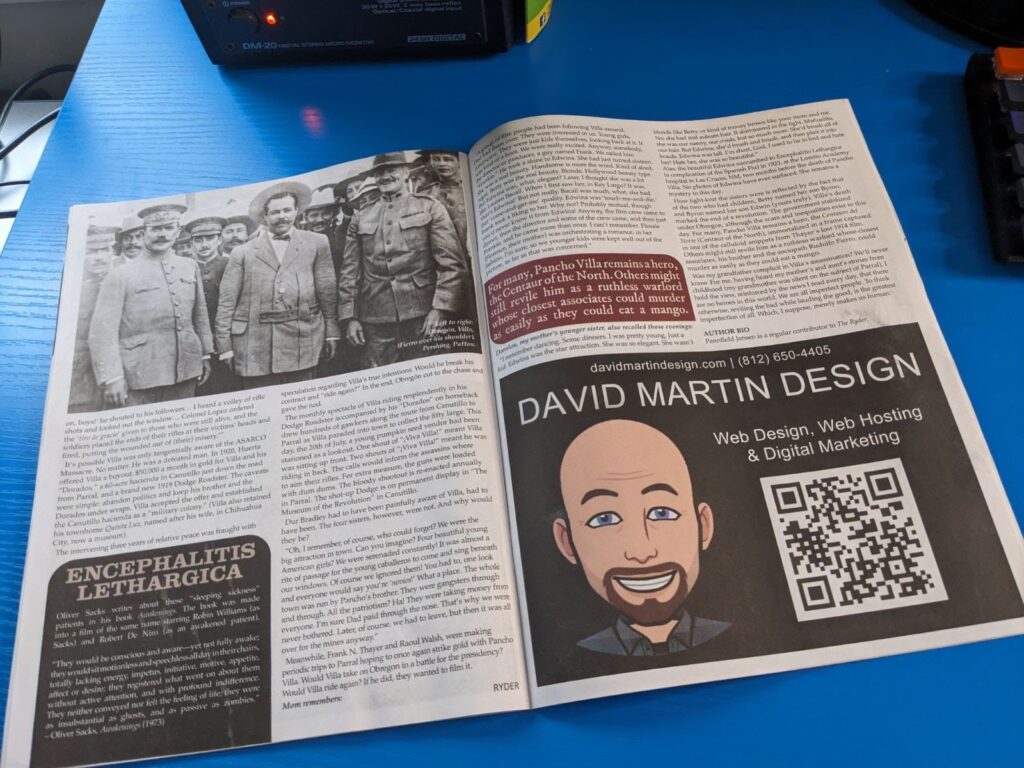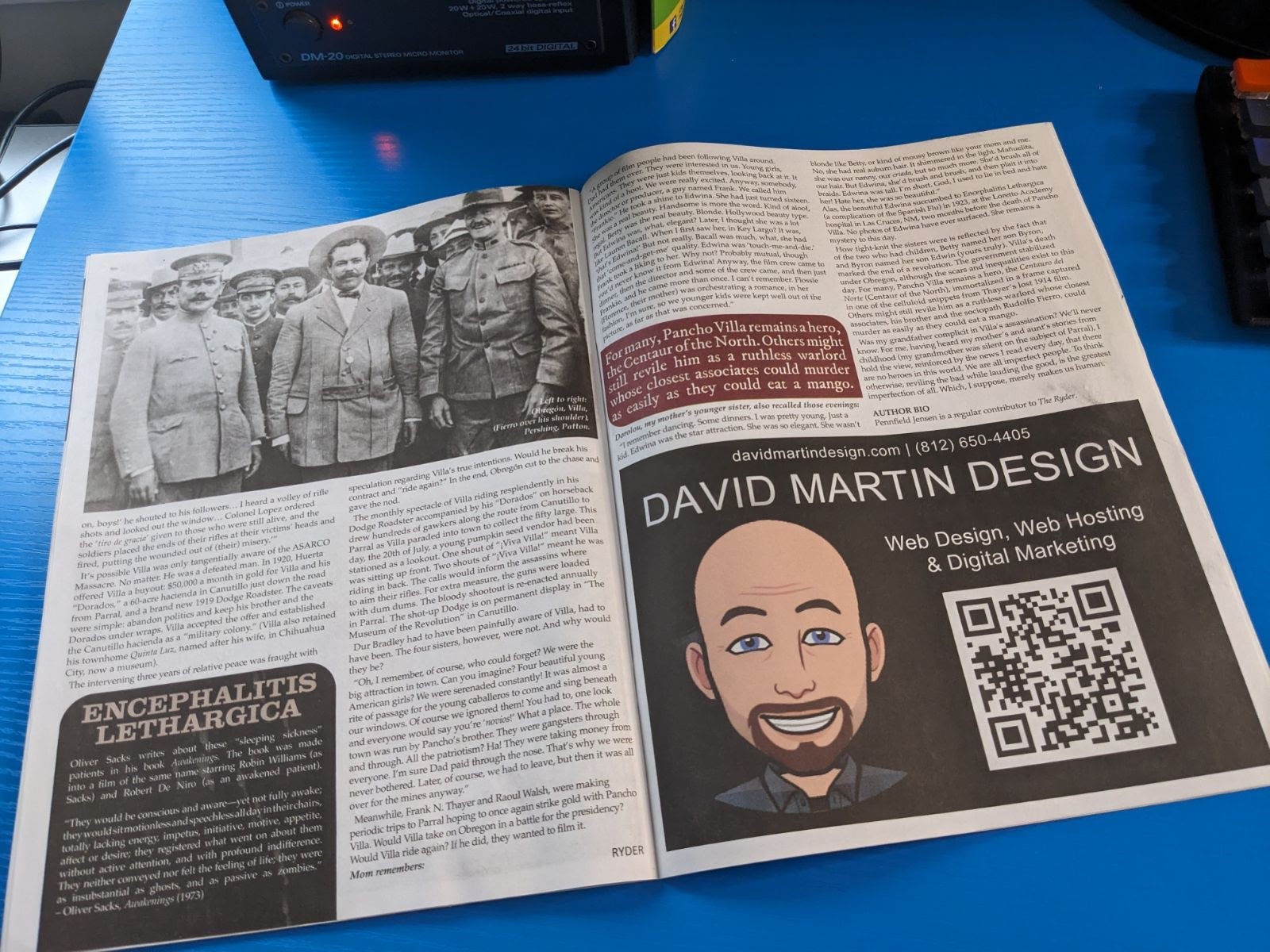 David was able to aid Andy in his quest to navigate the bewildering sea of technological enigma, understand his initial efforts, and identify the paths towards crafting a professional portal where folks could listen to and acquire his band's harmonies.
At one point during their collaboration, a perplexing email issue arose which left Andy flustered. This is when David stepped in, not just as a designer, but also as a "tech therapist." He was able to quickly diagnose the problem, navigate through the complex systems, and propose an effective solution – successfully restoring deleted emails. David's calm and collected approach amidst the chaos served as a reassuring presence, reminding Andy of the importance of patience and perseverance when facing such enchanting complications.
Connect the dots, la la la ♪
Bloomington, Indiana, a town known and celebrated for its close-knit folk, was fittingly illustrated in David's fellowship with Andy. It's a community where connections run deep and serendipity is more common than not. In a twist of fate, David recollected having played some of Andy's sire's melodies (the legendary minstrel Al Cobine) during his school years. This heartwarming memory further solidified their partnership, exemplifying the interconnected ties within their community.
Student & Teacher – David often expresses a profound appreciation for his diverse clientele, who not only provide an opportunity for him to experiment and innovate but also to learn and grow. His approach to clients is both educational and collaborative. On one hand, he imparts his insights and best practices, honing their understanding of the intricacies involved in web design and digital marketing. On the other hand, each unique project and its challenges push David to keep expanding his knowledge base and maintain his edge in the rapidly evolving digital world. This symbiotic relationship underscores his philosophy that design is not simply a service, but a journey of shared discovery, fostering stronger relationships and better outcomes.
The Gateway to Better Selections – In this age of boundless etheric commotion, David's wizardry served as a lighthouse, a testament to the might of camaraderie, and the living embodiment of the perfect duality of the tangible and intangible realms.
From their joint adventure, David worked intimately with Andy to traverse the vast array of available choices for the band's new website. They explored various options for website building, email management, payment gateways, social media, and marketing. David's comprehensive approach demystified the confusing technical details, helping Andy make informed choices tailored to his creative journey. With skillful navigation of the complex digital world and an empathetic, patient approach, David offers a model for a more human-centered approach to tech-based solutions, highlighting the advantages of a local, personalized service over impersonal global providers.
This entire experience came full circle back to the Ryder Magazine and the QR code that prompted Andy's initial call. It was a reminder of the incredible value of keeping business local and collaborating with Bloomington's local service providers. In an era of digital overwhelm, David's guidance served as a beacon, a testament to the power of community, and a symbol of the seamless blend of the physical and digital worlds. This story resonates with the unique relationship between David and Andy, highlighting the importance of bridging both the physical and digital realms in today's interconnected world. It serves as a testament to the success of local businesses supporting each other, underpinning the vibrant culture of Bloomington, Indiana.
May this tale serve as a testament to the magic that can arise when the tangible and intangible, the real and the digital, the old and the new are woven together with skill, care, and a deep sense of respect for the community. This yarn of collaboration is not merely about the crafting of a mere portal, but about the creation of harmonious connections, the bridging of gaps between the mundane and the mystical, and the reinforcing of community ties.
We invite you to experience the magic for yourself. Visit https://wizardpantspartyband.com/
Also, check out their new QR code that we created. Test it out!